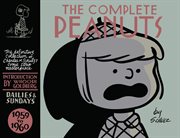 The complete Peanuts
1959 to 1960. Volume 5. Volume 5.
eBook - 2013
As the first decade of Peanuts closes, it seems only fitting to bid farewell to that halcyon decade with a cover starring Patty, one of the original three Peanuts. Major new additions to classic Peanuts lore come fast and furious here. Snoopy begins to take up residence atop his doghouse, and his repertoire of impressions increases exponentially. Lucy sets up her booth and offers her first five-cent psychiatric counsel. (Her advice to a forlorn Charlie Brown: "Get over it.") For the ve...ry first time, Linus spends all night in the pumpkin patch on his lonely vigil for the Great Pumpkin (although he laments that he was a victim of "false doctrine," he's back 12 months later). Linus also gets into repeated, and visually explosive, scuffles with a blanket-stealing Snoopy, suffers the first depredations of his blanket-hating grandmother, and falls in love with his new teacher Miss Othmar. Even more importantly, several years after the last addition to the cast ("Pig-Pen"), Charlie Brown's sister Sally makes her appearance―first as an (off-panel) brand new baby for Charlie to gush over, then as a toddler and eventually a real, talking, thinking cast member. (By the end of this volume, she'll already start developing her crush on Linus.) All this, and one of the most famous Peanuts strips ever: "Happiness is a warm puppy." Almost one hundred of the 731 strips collected in this volume (including many Sundays) have never been collected in any book since their original release, with one hundred more having been collected only once in relatively obscure and now impossible-to-find books; in other words, close to one quarter of the strips have never been seen by anyone but the most avid Peanuts completest.
Saved in:
Subjects

Genres

Online Access

Published

[United States] :

Fantagraphics Books

2013.




Language

English

Physical Description

1 online resource

Format

Mode of access: World Wide Web.

Audience

Rated E

ISBN

9781560976714

Access

AVAILABLE FOR USE ONLY BY IOWA CITY AND RESIDENTS OF THE CONTRACTING GOVERNMENTS OF JOHNSON COUNTY, UNIVERSITY HEIGHTS, HILLS, AND LONE TREE (IA).

Main Author

Corporate Author

Other Authors