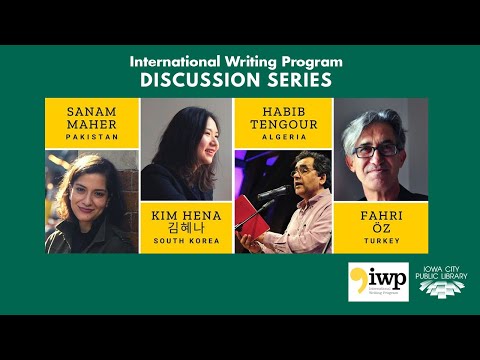 2021 International Writing Program (IWP) Panel
Reality hunger : Iowa City Book Festival 2021 Reality hunger :
Streaming video - 2021
Join International Writing Program (IWP) writers-in-residence and members of the public in person or online (livestreamed at bit.ly/fallresicpl) for an Iowa City Book Festival (Oct. 18-25: iowacitybookfestival.org) panel discussion of "Reality Hunger:" A wide-spread sense out there holds that, while fiction continues to be produced en masse (think video games!), we "content consumers" are ever more "reality-hungry:" keen on stories that make their claim on us by some currency of truthfulness ("truthiness," to use a neologism). Where does your work meet "reality"? Is poetry indifferent to this impulse? Panel will feature current IWP 2021 Fall Residents: Fahri ÖZ (translator, scholar, poet; Turkey) has translated into Tur...kish many British and American 19th and 20th century poets, and is currently bringing into Turkish Walt Whitman's and Emily Dickinson's collected works. He is the co-editor of a collection of "sudden fiction," Hayat Kisa Proust Uzun [Life is Short, Proust is Long] (2000), and the author of the poetry volume Mesrutiyet Çok Bulutlu On Bes Santigrat Yagmur Olasiligi Sifir [Mesrutiyet Street: Heavily Overcast, 15 Degrees Celsius with Zero Chance of Rain] (2019). Until 2017, when he was dismissed for signing the Academics for Peace declaration, he taught at Ankara University. His participation is sponsored by the Institute for International Education, the University of Iowa, and private gifts. Habib TENGOUR (poet, essayist, playwright, translator, scholar, editor; Algeria) has published over twenty volumes of writing, most recently the poetry volume La Sandale d'Empédocle (2021). His poetry has been translated into English, German, Italian, Arabic, and many other languages; in turn, he translates poetry from the Arabic and the English. In 2016, that work garnered him a Prix européen de poésie Dante. He also directs the series "Poèmes du monde" for the Algerian publisher APIC. His participation was made possible by the Paul and Hualing Engle Fund. KIM Hena (fiction writer, South Korea) studied Korean language and literature at the University of Cheong-ju. Her first novel, [Jerry], was the 2010 winner of Today's Author Prize; the second, [Junk], was long listed for the 2013 Dong-In Prize of Literature; [The Goldstar Telephone] received the 2016 Soorim Prize of Literature. She has also published a book of essays on yoga, [What Makes Me Breathe]. She participates courtesy of Arts Council Korea. Sanam MAHER (non-fiction writer, journalist; Pakistan) covers stories on Pakistan's art and culture, business, politics, religious minorities, and women. Her work has appeared in The New York Times, Al Jazeera, The Caravan, Roads & Kingdoms, and The Times Literary Supplement, amongst others. Her first book, A Woman Like Her: The Short Life of Qandeel Baloch, an investigation into the murder of Pakistan's first social media celebrity, appeared in 2018. She participates courtesy the Bureau of Educational and Cultural Affairs at the U.S. Department of State.
Saved in:
Subjects

Published

Iowa City, IA :

Iowa City Public Library

[2021]




Language

unknown

Other Authors

, , ,

Online Access

Physical Description

1 online resource (approximately 67 min.) : sound, color