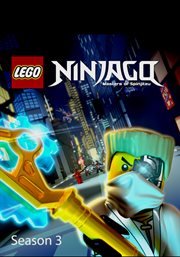 LEGO Ninjago, Masters of spinjitzu.
Season 3, Rebooted Season 3, Rebooted.
Streaming video - 2014
'Ninjago®: Master of Spinjitzu' is a modern kids' drama series where the characters grow as individuals, just like real world teenagers, as they face challenges in life. Their actions leave 'scars' and open new emotional journeys as the teens have fun, make sacrifices, learn about discipline, mastery, and most of all, believing in oneself. The NINJAGO property resonates with kids and teens everywhere, with its three key components of ninja coolness, the application of ...mastery to life, and three dimensional characters that use the might of friendship as effectively as their weapons and elemental powers. The show balances epic action and emotion, interweaved with humour and adult themes that kids can identify with. The ninjas' adventures are all part of one big story over time, creating a rich world with characters that kids care about.
Saved in: