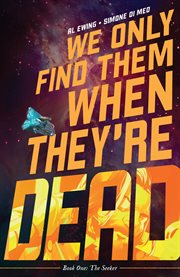 We only find them when they're dead
Issue 1-5, The seeker Issue 1-5, The seeker.
eBook - 2021
The Gods are always beautiful... and the Gods are always dead. Captain Malik and the crew of the Vihaan II are in search of the only resources that matter-and can only be found by harvesting the giant corpses of alien gods found on the edge of human space. While other autopsy ships and explorers race to salvage the meat, minerals, and metals that sustain the human race, Malik sees an opportunity to finally break free from this system: by being the first to find a living god. Al Ewing (Immortal H...ulk) and Simone Di Meo (Mighty Morphin Power Rangers) present a new sci-fi epic about the search for meaning and the hard choices we make to find it, no matter the cost to the world-or universe- around us.
Saved in: