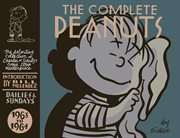 The complete Peanuts
Volume 7. 1963 to 1964. Volume 7. 1963 to 1964.
eBook - 2007
"My name is 555 95472 but everyone calls me 5 for short... I have two sisters named 3 and 4." With those words, Charles Schulz introduced one (in fact, three) of the quirkiest characters to the Peanutsuniverse, the numerically-monikered 95472 siblings. They didn't stay around very long but offered some choice bits of satirical nonsense while they did. As it happens, this volume is particularly rich in never-before-reprinted strips: Over 150 (more than one fifth of the book!) have ...never seen the light of day since their original appearance over 40 years ago, so this will be a trove of undiscovered treasures even for avid Peanuts collectors. These "lost" strips include Linus making a near-successful run for class president that is ultimately derailed by his religious beliefs (two words: "great" and "pumpkin"), and Snoopy getting involved with a group of politically fanatical birds. Also in this volume: Lucy's attempts at improving her friends branches out from her increasingly well-visited nickel psychiatry booth to an educational slideshow of Charlie Brown's faults (it's so long there's an intermission!). Also, Snoopy's doghouse begins its conceptual expansion, as Schulz reveals that the dog owns a Van Gogh, and that the ceiling is so huge that Linus can paint a vast (and as it turns out unappreciated) "history of civilization" mural on it.
Saved in:
Subjects

Genres

Online Access

Published

[United States] :

Fantagraphics Books

2007.




Language

English

Physical Description

1 online resource

Format

Mode of access: World Wide Web.

Audience

Rated E

ISBN

9781560977230

Access

AVAILABLE FOR USE ONLY BY IOWA CITY AND RESIDENTS OF THE CONTRACTING GOVERNMENTS OF JOHNSON COUNTY, UNIVERSITY HEIGHTS, HILLS, AND LONE TREE (IA).

Main Author

Corporate Author

Other Authors