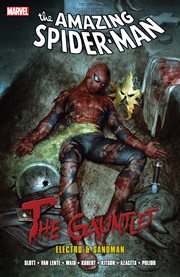 The amazing Spider-Man
Volume 1, The gauntlet Volume 1, The gauntlet.
eBook - 2021
Collects Amazing Spider-Man #612-616 & Dark Reign: The List - Amazing Spider-Man. The wife and daughter of the late Kraven the Hunter want Spider-Man dead and they're sending his oldest enemies to do the job...first up, Electro and Sandman! Plus: Norman Osborn seeks to check off the number one item on The List: Kill Spider-Man!
Saved in: