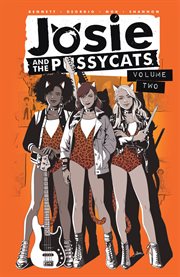 Josie and the Pussycats
Volume 2, issue 6-9 Volume 2, issue 6-9.
eBook - 2018
JOSIE AND THE PUSSYCATS VOL. 2 sends the world's biggest comic book band on action-packed adventures all around the world! Collects issues 6 - 9 of the Josie and the Pussycats series by writers Marguerite Bennett (DC Comics' Bombshells) and Cameron DeOrdio and artist Audrey Mok (Archie).
Saved in: