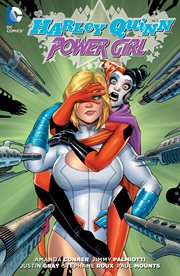 Harley Quinn and Power Girl
Issue 1-6 Issue 1-6.
eBook - 2016
Spinning out of the hit series HARLEY QUINN, this six-issue miniseries tells the story-within-the-story of the unlikely super-duo's adventures in outer space! Hey, remember the panel gutter between panels 3 and 4 of page 20 of HARLEY QUINN #12? What? You don't? It's only, like, the most memorable panel gutter of the twenty-first century! We'll jog your memory-our heroes, Harley Quinn and Power Girl, were tossed through a teleportation ring, dropping them into galaxies unknown.... It's a cosmic adventure beyond your wildest imaginings: Power Girl and Harley Quinn, stranded in a forgotten dimension, on the homeworld of the amorous warlord Vartox! They'll sacrifice anything they have to in order to get home-except their dignity. Kidding! That'll be the first thing to go. HARLEY QUINN writers Amanda Conner and Jimmy Palmiotti are joined by artist Stephane Roux (BIRDS OF PREY) and writer Justin Gray (ALL-STAR WESTERN) for an unforgettable tale of friendship, romance and butt-kicking!
Saved in:
Subjects

Genres

Online Access

Published

[United States] :

DC Comics

2016.




Language

English

Physical Description

1 online resource

Format

Mode of access: World Wide Web.

Audience

Rated T

ISBN

9781401266868

Access

AVAILABLE FOR USE ONLY BY IOWA CITY AND RESIDENTS OF THE CONTRACTING GOVERNMENTS OF JOHNSON COUNTY, UNIVERSITY HEIGHTS, HILLS, AND LONE TREE (IA).

Main Author

Corporate Author

Other Authors

, , , , , , , , ,