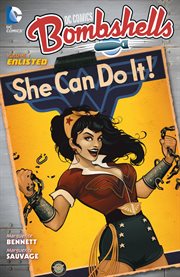 DC Comics: Bombshells
Volume 1, issue 1-6, Enlisted Volume 1, issue 1-6, Enlisted.
eBook - 2016
The incredibly popular DC Collectibles line is brought to life in these stories that reimagine the course of history! As Word War II rages across Europe, the Allied forces issue a call to arms for the greatest heroines the world has ever known: THE BOMBSHELLS! KATE KANE, the all-American Batwoman; DIANA OF THEMYSCIRA, warrior Princess of the Amazons; KARA STARIKOV and KORTNI DUGINOVNA, defenders of Mother Russia; and MERA, royal daughter of the legendary Atlantis! With aid from their allies at home and abroad, these mighty women will turn the tide of war and defend those inviolable rights of Truth, Justice and Freedom. From writer Marguerite Bennett (BATGIRL, EARTH 2: WORLD'S END) and featuring artists including Marguerite Sauvage (HIN...TERKIND), Laura Braga (WITCHBLADE), Bilquis Evely (DOC SAVAGE), Mirka Andolfo (CHAOS) and Ming Doyle (CONSTANTINE: THE HELLBLAZER) comes DC COMICS: BOMBSHELLS VOL. 1: ENLISTED.
Saved in: