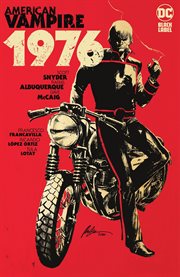 American vampire 1976.
Issue 1-10 Issue 1-10.
eBook - 2021
Paranoia reigns supreme. It's 1976, and this is the final chapter of the Eisner Award-winning American Vampire! At a seedy motorcycle rally in the desert where Skinner Sweet is closer than ever to his death wish, Pearl Jones and a shocking partner track him down for one last, desperate mission as the series that launched the careers of superstars Scott Snyder and Rafael Albuquerque concludes!
Saved in: