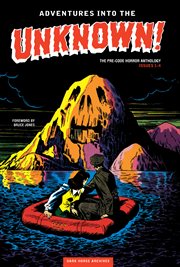 Adventures into the unknown archives
Issue 1-4 Issue 1-4.
eBook - 2015
The first ongoing horror comics anthology, Adventures into the Unknown! is finally collected into a series! The pre-Code delights found in this debut volume include inventive, exciting tales like "The Living Ghost," "Kill, Puppets, Kill," "The Affair of Room 1313," and the ongoing "True Ghosts of History" feature-and contributions from Golden Age greats Fred Guardineer, Al Feldstein, Leonard Starr, Edvard Moritz, and others! Adventures into the Unknown! Archives Volume 1 reprints the popular, long-running horror anthology, which ran from 1948 to 1967. Foreword by Bruce Jones!
Saved in: